Thinking of Mary, the mother of our Lord and honoring my Mom and all mothers today!
And it happened, when Elizabeth heard the greeting of Mary,
that the babe leaped in her womb;
and Elizabeth was filled with the Holy Spirit.
Then she spoke out with a loud voice and said,
"Blessed are you among women,
and blessed is the fruit of your womb!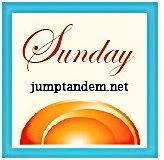 Joining
Deidra
on this Mother's Day Sunday