Diana's question this week is:
"What's with this 'more of Jesus, less of me' stuff?"
This seems to be a phrase
that falls freely from our lips
without much thought or reason
we say it
we sing it
we pray it
I wrote about it
in 2008, in 2010, likely just days ago as well
Then all that I am is all that He Is. Is this possible? To my natural mind it seems impossible to die to myself completely, it is not a natural act or process however, it is supernatural and can only be possible because of the Holy Spirit that indwells and guides me. My natural man fears death of self while my spirit man hungers for the same, to be totally lost and then totally found in Jesus.
This then, is the losing and the finding I have been seeking. I cannot strive toward it, this releasing of all that my "self" struggles to hold. Had I known how fierce would be the battle would I have dared begin?
Totally lost, totally found, totally His.
To exist as a reflection of His glory and His love.
There is no harder task.
There is no higher call.
In knowing I can not
I take the first step toward possibility.
Totally lost, totally found.
It is the world in me that I want to replace with the Christ in me.
That I might have space to be the real version of Karin.
The daughter He designed with great skill and precision
Not less, but more.
Fractures healed, imperfect perhaps
but complete in ways I can't quite imagine.
So as much as I am able, I pray
Continue to help me to surrender to Your work, Lord
in me, through me
that my unique spice and flavour
would bring glory to You name.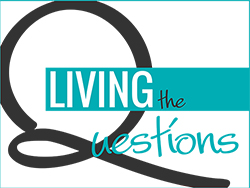 joining
Diana in the depths