The question Diana asks us to live this week is
Why do bad things happen to good people?
I believe that question walks hand in hand with
How can there be a loving God in a world where horrible things happen?
I have no answers
and I will not pretend to understand
or try to dig up reasons that sound like excuses
tears have wet pillows, cheeks streaked with
why?
frustration grows at an accelerated pace
breathing fast until air is too thin to feed
I am learning to surrender
my need to know
again and again
I find myself confessing
my heart on its knees
let it be enough to know that You know
so we can move on
to the now what?
remembering we are still in Your arms
even when nothing feels safe
or certain
help us turn the question
on its head, and ask instead
why do we deserve all the good poured out upon us?
grace, Your grace alone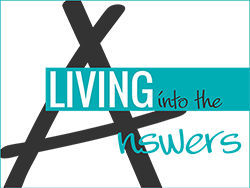 diving in with
Diana