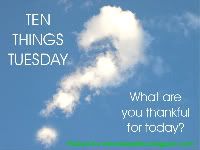 My Ten Things for Tuesday August 19, 2008
Today I am thankful for writers bold enough to put their love for Jesus into words. My prayer is that I would always be counted among them.
Today I am thankful for a long stretch of time yesterday to almost finish lesson 5 in Naturally Supernatural, my current course at Christian Leadership University
Today I am thankful that God was, is and always will be.

"And God said to Moses, I AM WHO I AM and WHAT I AM, and I WILL BE WHAT I WILL BE; and He said, You shall say this to the Israelites: I AM has sent me to you!" Exodus 3:14 Amplified

Today I am thankful for brilliant sunshine that has been ripening the tomatoes in our garden. What a delight to the taste buds!
Today I am thankful for "The Shack" a book that cost me half a box of kleenex and more tears than I can count, and left me hungrier than ever to linger in the presence of our Lord. If you haven't read it yet, please consider doing so. For more info check The Shack Book I will soon write more about this, but still need time to process.
Today I am thankful for the love of a man who truly believes both halves of the Ephesians 5 equation "Wives, submit to your husbands as to the Lord. For the husband is the head of the wife as Christ is the head of the church, his body, of which he is the Savior. Now as the church submits to Christ, so also wives should submit to their husbands in everything. Husbands, love your wives, just as Christ loved the church and gave himself up for her to make her holy, cleansing her by the washing with water through the word, and to present her to himself as a radiant church, without stain or wrinkle or any other blemish, but holy and blameless. In this same way, husbands ought to love their wives as their own bodies. He who loves his wife loves himself." Ephesians 5:22-28 NIV
Today I am thankful for all of the small frogs hopping around in our yard. Not only are they cute, but they eat the grasshoppers that are also trying to make themselves a home on our land.
Today I am thankful that plans are coming together for a workshop I will be presenting on "Living With Alzheimer's Disease" in October. I pray that more people would open up and take advantage of the help that is available.
Today I am thankful that harvest time is almost upon us. The farmers are busy checking their fields each day, making things ready, waiting for just the perfect moment to reap what was sown last spring. It is a prophetic picture of the greater harvest yet to come. But it is coming.

Today I am thankful that I serve a God Who continues to teach me what it means to be thankful.
What are you thankful for today? Go to X-Box wife and join us!