There are packages under our Christmas tree that glitter beneath the lights. These are small trinkets brightly wrapped in snowmen and angels and cheerful winter scenes.
But not everyone is facing a cheerful Christmas. Some do not expect to have food to eat, or safe water to drink; some have never known what it is to feel healthy, many are dying.
That is why, again this year, as has become our habit, we did the majority of our shopping online. No, not at Amazon.com or Sears or Ebay. We selected gifts using the
Compassion Catalog
, helping those in need as a way to honor our loved ones and our Lord.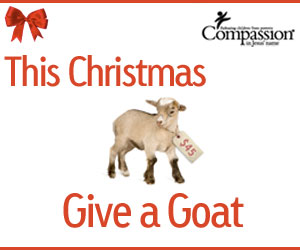 Won't you take a few minutes to visit
Compassion's Website
; watch the videos, browse through the selection of gifts and give a gift this year that truly makes a Kingdom difference? I believe it is what Jesus would have us do.