is opening us up to experience his coming to us this year,
and preparing us to await his coming in Glory.
Come, Lord Jesus.
Come and visit your people.
We await your coming.
Come, O Lord.
from: Third Sunday of Advent
He Who gives this warning and affirms and testifies to these things says,
Yes (it is true). [Surely] I am coming quickly (swiftly, speedily).
Amen (so let it be)! Yes, come, Lord Jesus!
Revelation 22:20 Amplified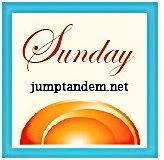 joining
Deidra
and others in the hush of a sunday morning