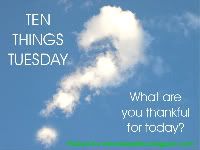 Today I am thankful that I have these few minutes to join in the chorus of thanks
Today I am thankful to be able to arrange and rearrange my schedule so I am able to attend so many of the revival meetings that are being held in town.
Today I am thankful that God has touched my heart in a way that makes me desire to attend as many meetings as possible.
Today I am thankful that our precious Lord Jesus is a gentleman and will not force anything upon us, but rather waits with exquisite patience for us to welcome Him into each and every area of our hearts.
Today I am thankful for the teaching, preaching, praying and exhorting that God's servants have been led to share in obedience
Today I am thankful for all of those who have given of their time and services to attend to all of the various ministries of helps that are needed when the body comes together day after day, night after night.
Today I am thankful and blessed to have opportunity to be counted among those who have served.
Today I am thankful for the hungry spirit God has placed inside of me. My prayer is that I never reach a point of satisfaction but continue to seek Him, asking for more.
Today I am thankful for my beloved husband who feels called as well to seek for more and more and more of all the things God wants to show us.
Today I am thankful for the promise in

Jeremiah 29:13 "And ye shall seek me, and find me, when ye shall search for me with all your heart."
What are you thankful for today? Visit Jill at
Xbox-Wife
to join in the circle of thanksgiving.